Welcome to Brent Ross' Cottage Gardens...
2023 INTRODUCTIONS
TET, 6" 30" SCAPE , 2 WAY BRANCHING, 12 BUDS. SEV, MIDSEASON. CREAM WITH A ORANGE RED EYE AND EDGE
SF 50.00

TET, 6" BLOOM, 32" SCAPE 2 WAY BRANCHING, 12 BUD COUNT. MID-LATE SEASON, SEV. CRANBERRY RED WITH A LIGHTER WATERMARK GREAT COLOR ON THIS ONE AND IS OUT OF THANKS MOM. VERY LIMITED
SF 125.00

TET, 8" BLOOM, 32" SCAPE, 4 WAY BRANCHING, 20 BUD COUNT. EVE, LATE SEASON. RED WITH A WHITE EDGE. THIS ONE HAS A GREAT PLANT HABIT AND IS VERY LIMITED
SF 125.00

TET, 5" BLOOM, 28" SCAPE, 2 WAY BRANCHING, 12 BUD COUNT, MID-LATE SEASON SEV. CRANBERRY PURPLE WITH A LIGHTER WATERMARK AND VERY TOOTHY EDGE. NAMED FOR ONE OF FRIENDS THAT REALLY LIKES THE GARDENS AND DAYLILIES
DISPLAY ONLY

Max enjoying the pond

Welcome to our 2023 Cottage Gardens website. We have 4 new introductions for 2023, COTTAGE ETIQUETTE, COTTAGE REDEZVOUS, COTTAGE SUPREME, and SEAN NICKERSON.


We grow over 4000 registered cultivars, including our own introductions and many new cutting edge intros from a a variety of hybridizers. Also included are many older fan favorites, including bagel, ufs, doubles, minatures, toothy, and broken color patterns.



Our gardens are located in 2 locations, at our house where the newest intros are and some gardens here are display gardens. The second location is in the field, where everything is for sale.


We are open July 5th to July 30th, Tuesday through Sunday, 10 am to 5 pm. Closed on Mondays. Other times by appointment.
| | |
| --- | --- |
| | We ship anywhere in the US, from late April to late September. We ship by priority mail, and costs are 14.00 plus .50 per plant. |
If you are interested in a display plant, let me know and I quote you a price if I have enough to sell.

Please note: Prices with a large S in front of it means the price is for a single fan.


Sebastian enjoys the birdbath
We look forward to your visit to our gardens.


Happy Gardening,
Brent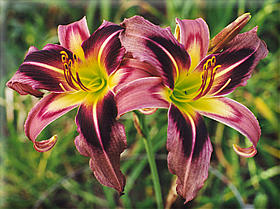 STARMAN'S QUEST
I enjoy your visits in our zone 5 garden.
Peak bloom is mid to late July. Please call to insure I will be there if you coming from a distance.