Welcome to Brent Ross' Cottage Gardens...
2018 INTRODUCTIONS
PURPLE WITH BLUE LAVENDER EYEZONE AND GREEN THROAT. (ROSE F KENNEDY X PHIL WARBASE) DIPLOID, DORMANT, MIDSEASON, 6.5" BLOOM ON A 42 INCH SCAPE, 4 WAY BRANCHING WITH 28 BUDS. GOOD GROWER AND GREAT FOR HYBRIDIZING.
SINGLE FAN $ 150.00

RED WITH GOLD TEETH, TETRAPLOID, SEV, MIDSEASON, 5.5 " BLOOM ON A 28" SCAPE, 3 WAY BRANCHING WITH 22 BUDS. NAMED FOR MY CAT OSCAR, WHO HAS A SNARLING ATTITUDE WHEN HE HAS TO COME BACK INSIDE. LIMITED
SINGLE FAN $ 150.00



THE CALM BEFORE THE STORM
ROSS 2018

BURGANDY WITH A WITH A LIGHTER WATERMARK AND A FINE RUFFLED EDGE. TET, DORMANT, MIDSEASON, 4 WAY BRANCHING WITH 20 BUDS. 5.5" BLOOM ON A 25" SCAPE.
SINGLE FAN $75.00



YOU CAN CALL ME DEBBIE
ROSS 2018

THIS ONE IS NAMED FOR MY WIFE ( DESIRE OF NATIONS X BLUEGRASS MEMORIES). BURGANDY WITH A LIGHTER WATERMARK AND A FINE EDGE. 5.5" BLOOM ON A 25" SCAPE. TET, DORMANT, 4 WAY BRANCHING WITH 20 BUDS . MIDSEASON. EXTREMELYY LIMIITED

SINGLE FAN $ 175.00

Max enjoying the pond

Welcome to our COTTAGE GARDENS Website for 2018!

In 2017, we had a lot of rain, and the gardens looked better than ever.
| | |
| --- | --- |
| We grow over 3,800 different registered cultivars including some the newest ones from many of the leading edge hybridizers. Our collection includes many types including teeth, big edges, pattern, doubles, and ufs and our own intros. | |
| | |
| --- | --- |
| | Our gardens are arranged with different perrenials, trees, and shrubs at the house in a Cottage Garden style. We have a few beds that are by hybridizer only, including Curt Hanson's, and Dan Trimmers. Our candy bed has been replaced with some of the very newest intros from various hybridizers. We also have a STOUT BED. |
| | |
| --- | --- |
| Visitors are welcomed to visit the gardens ( We are a AHS display and retail garden) The gardens are open July 1st to August 5th . Hours are Tuesday through Sunday 10 am to 5 pm and are closed on Mondays. Other times can be arranged with a phone call or email | Sebastian enjoys the birdbath |
We ship plants weather permitting starting in mid April until September 15th. We ship to anywhere in the US and Canada. Shipping costs are $13.00 plus .25 per plant to anywhere in the US . Canada is actual shipping costs plus 25.00 for the phyto inspection.

Prices are per double fan unless there is a S in front of the price. Display plants may be for sale, please inquire and I can give you a price if I have enough.

I look forward to your visits to the gardens.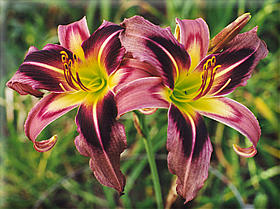 STARMAN'S QUEST
I enjoy your visits in our zone 5 garden.
Peak bloom is mid to late July. Please call to insure I will be there if you coming from a distance.