Welcome to Brent Ross' Cottage Gardens...
2013 INTRODUCTIONS

THE LOGICAL SONG
(B. ROSS 2013)

PURPLE WITH A BLUE WATERMARK AND SILVER EDGE. THIS IS ONE OF MY FAVORITE INTROS TO DATE. TET, 5" BLOOM,28" HEIGHT, MIDDLE SEASON,SEV. GREAT FOR HYBRIDIZING FOR THAT BLUE COLOR, THIS ONE IS VERY LIMITED
SF $200.00


GOOD BYE STRANGER
(B. ROSS 2013)

(BELLA SERA X ROCK SOLID) TET, 32" HEIGHT, 5"BLOOM, DORMANT, MID SEASON, LAVENDER WITH GOLD EDGE, YELLOW THROAT. THIS ONE BLOOMED A GOOD PORTION OF THE SEASON AND DID VERY WELL, EVEN WITH THE VERY DRY SEASON WE HAD. GREAT FOR HYBRIDIZING WITH
SF $50.00


BIRTHDAY RIBBONS
(D. ROSS 2013)

HYBRIDIZED BY MY WIFE, THIS IS ONE GREAT DAYLILY.(NATHAN SOMERS X UNKNOW), UF CASCADE SPATULATE. BEAUTIFUL PURPLE WITH GREEN THROAT. 7"BLOOM, 31"HEIGHT, SEV, DIPLOID,12 BUD COUNT. ADMIRED MY OUR VISITORS, AND LIMITED
SF $ 25.00

COTTAGE CAT IS A VERY GOOD GARDEN PLANT,AND SHOWS ACROSS THE GARDEN. (ADORABLE TIGER X FOOLED ME), TET,4" BLOOM,30" HEIGTH,DORMANT, MIDSEASON, 18 BUDS. VERY BRIGHT ORANGE WITH LARGE RED EYE
SF $ 25.00

CAUSING A RUCKUS
(B. ROSS 2013)

(RUCKUS xUNKNOWN) TET,5" BLOOM, 31" HEIGHT, DORMANT, MIDSEASON, YELLOW WITH GREAT LARGE TEETH. 2 WAY BRANCHING, 15 BUD COUNT. GOOD FOR HYBRIDIZING TEETH. VERY LIMITED
SF $125.00
| | |
| --- | --- |
| Max enjoying the pond | Welcome to Cottage Gardens of Medina, new York, which is located in western New York, midway between Buffalo and Rochester. The garden is an official American Hemerocallis Society Display Garden and a commercial garden. |
I specialize in hybrid daylilies and currently grow over 3,100 registered daylilies and some seedlings of local hybridizers. Our collection includes many older but goodies, Stout Award winners, and many newer introductions.


GRANNY SMITH'S SURPRISE
Brent Ross 2004 Introduction
$75.00 S
| | |
| --- | --- |
| | Some of the gardens include many other perennials in a cottage garden style. Included in our gardens is a candy bed with many of Patrick Stamile's "Candy" introductions. A small water garden with waterlilies and goldfish gives visitors a chance to relax and view some of the gardens. |
| | |
| --- | --- |
| I enjoy visitors during the bloom season. Visits to gardens are welcomed the month of July, Tuesday thru Sunday, 10 am to 5 pm. The garden is closed on Monday. Other times can be arranged by phoning or emailing us. | Sebastian enjoys the birdbath |
Sales at the garden are dug on request. All plants are state inspected. We will ship orders Priority Mail only, in the U.S., please add $12.00 plus .25 per plant for shipping costs. We do not substitute unless you request it. Bonus plants are given, please send a list with your order.

I look forward to seeing you during the daylily season.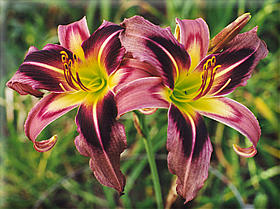 STARMAN'S QUEST
I enjoy your visits in our zone 5 garden. Peak bloom is mid to late July. Please call to insure I will be there if you coming from a distance.