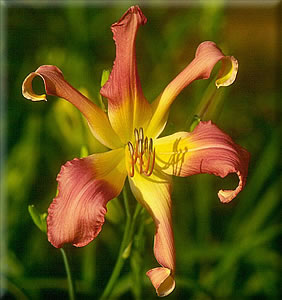 MILLION DOLLAR LEGS
MILLION DOLLAR LEGS - Bob Schwarz
(Seedling x WIGGLESWORTH) x Richard Webster Seedling Unusual Form tetraploid. 40" x 9 ½ ", 1-2 laterals plus terminal "Y". 13-16 buds. Early,mid.
Wow! What a beauty. When I first saw MILLION DOLLAR LEGS bloom, I knew it was a break, and that there was nothing else like it.
The folks at the convention here two summers ago agreed with me when they awarded MILLION DOLLAR LEGS a JC. It often blooms as you see it, with two quilled and hooked topped sepals and a cute little "pig tail" on the bottom sepal. A very unusual and attractive Unusual Form.
The color combination of dusty rose and yellow gold is just the thing to set this flower off when you see it from across the garden.
MILLION DOLLAR LEGS starts off at 9 ½ inches, and blooms down to 8 inches; still a big flower. And MDL is fertile both ways and a great parent for UFs. Many of the kids display the same characteristics as MDL in lavenders and rose pinks.
MILLION DOLLAR LEGS is an extraordinary plant that will make a super addition to your garden.