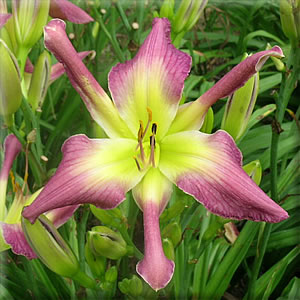 HOLLYWOOD CALLING
RIDDLE ME THIS x WIGGLESWORTH
Unusual Form – Pinched and quilled Crispate. 39" x 7 ½" Tet, Mid, Dor. 4 -5 way branching, 20+ buds.
HOLLYWOOD CALLING has a nice open symmetrical form. The pinched petals and the quilled sepals balance out well. It is another WIGGLESWORTH kid. What a great parent WIGGLESWORTH is!
HOLLYWOOD CALLING is a cockerel. When a flower blossoms typically with three quilled sepals it is referred to as a "cockerel". Don't ask me why.
At nearly 40 inches with sturdy scapes HOLLYWOOD CALLING could be a back of the border plant. The lavender color is quite clear and the nice bud count makes a really spectacular clump that holds its own. The green throat pales out into a light wash as it extends more than half way along the floral segments making this flower an eye-catcher from a long way off.
Anyone who knows what I like in daylilies knows that an open form is high on the list. I like a blossom that tells you what it is from far away. HOLLYWOOD CALLING does just that.
When I saw it, I put on my talent scout disguise, tapped the ash off my imaginary cigar and thought, "That daylily's going out there as a chorus girl, and she's coming back a star."
Pod and Pollen fertile.
HOLLYWOOD CALLING is bring grown by Linda Sue and Curtis Barns in Wade, North Carolina and will be shipped from there.