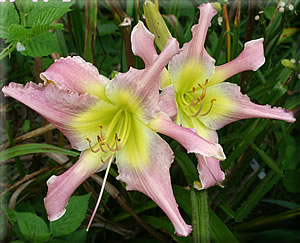 BOMBAY DREAMS
(Seedling x WIGGLESWORTH)
Unusual Form – Variable crispate 36" x 7", Tet, Mid Dor. 4-5 way branching, 25 -30 buds
BOMBAY DREAMS is a beautiful rose lavender UFo with plenty of buds. It also reblooms copiously with well branched and budded scapes in North Carolina where it is growing at Linda Sue and Curtis Barns's.
The top picture shows BOMBAY DREAMS early in the season. It lightens up as the season progresses and ends in a paler shade of lavender. Both colors are very clear.
This is another WIGGLESWORTH kid that exhibits the two main characteristics that I look for in my breeding for Unusual Forms: color and form.
The sepals often quill and hook, adding to the movement and giving a very open look. It has a nice green throat blending out into olive that glides into a light lavender wash-eye.
BOMBAY DREAMS gets its name from memories of the delicate colors of the fabrics that Mimi and I saw when we traveled in India. It's rather startling at first to see a woman working in the fields under the hot sun wearing a fabulous colored sari.
That's what BOMBAY DREAMS reminds me of.
It's a beautiful flower and a fine addition to any garden.
BOMBAY DREAMS is bring grown by Linda Sue and Curtis Barns in Wade, North Carolina and will be shipped from there.