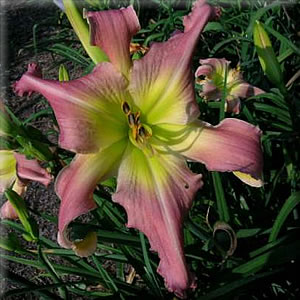 ADMIRABLE CURMUDGEON
ADMIRABLE CURMUDGEON Tet UFo (Variable Crispate), Mid-late, 39 x 6 3/4 3 lats + terminal "Y", 25-30 buds - fertile both ways. Reblooms
[{(TUXEDO JUNCTION X PAPER BUTTERFLY) X TUXEDO JUNCTION} x WIGGLESWORTH]
ADMIRABLE CURMUDGEON is a special introduction for 2006. It is named in honor of that venerable doyen of daylilies, Ned Roberts. His nearly inexhaustible knowledge of daylily lore and his ability to discourse about it is legendary, and limited only by the endurance of his jaw muscle and the patience of his listeners.
He is widely known for his ardent and (sometimes cantankerous) quest for integrity in the registration daylilies, and his creative hybridizing for unique introductions has only added to his reputation. Those who know, appreciate and love him will not need any further explanation.
I am very pleased to have produced a daylily worthy to be named in his honor.
ADMIRABLE CURMUDGEON is another WIGGLESWORTH kid and is really a stunner of a variable crispate, assuming a variety of charming poses.
ADMIRABLE CURMUDGEON had already started blooming on June 23 of this year (2005) when I took the shots you see here. It still had some blossoms left when Curtis Barnes confirmed that it was pod fertile on August 4 - over 40 days.
It starts out as lovely rose lavender with a slightly darker halo and a fine green throat. As the sun warms it during the day ADMIRABLE CURMUDGEON turns to a softer dusty rose pink, and the halo nearly disappears. See pictures 1 and 2, the first was taken at 9 AM the second at 2:45 PM.
The slight ruffling at the petal ends and the lighter edge of the sepals only add to the beauty of this plant.
I expect this plant to be in commerce for a long time and to become a staple garden subject as well as the parent of many important seedlings.
ADMIRABLE CURMUDGEON is being grown by Linda Sue and Curtis Barns in Wade, North Carolina and will be shipped from there.